Installer Tile Specialist (ITS) Installation Standards Verification Course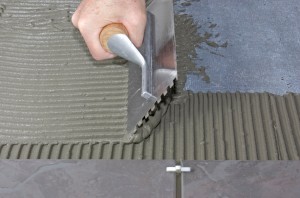 The Tile Installer Thin-set Standards (ITS) Verification course instructs installers, setters and helpers, on industry standards, practices, and proper installation methods for tile thin-set applications that apply to ceramic tile, porcelain tile, stone tile, glass tile and other types of adhered tile materials.
(See video previews in English or Spanish below.)
The ITS Verification course comes in a USA Standards version that is available in both an English version and a Spanish version.  It also is available in a Canadian Standards version that is taught in English and soon will be available in Canadian French.  The Canadian Standards version is only available through the Tile Terrazzo Marble Association of Canada (TTMAC) at www.TTMAC.com.  The USA ITS Standards version is available either through this UofCTS website or through the National Tile Constractors Association (NTCA) at www.tile-assn.com or through the Ceramic Tile Distributors Association (CTDA) at www.CTDAhome.org, or through Tile Marble Terrazzo Union Local #18 at  www.tileunion.org.
Benefits of ITS Verification
Earning ITS Verification can help installers gain more work, charge more for their work, and avoid costly problems. Tile installers that obtain ITS Verification have demonstrated that they are knowledgeable about current industry standards. Using ITS Verified installers helps consumers ensure quality tile and stone installations.
This course is also meaningful to architects, general contractors, consultants, inspectors, and owners who want to be aware of the industry installation standards, practices, and methods.
Standards have been created by industry consensus committees, made up of leading industry specialists, that have been meeting over many years to discuss their experiences of reoccurring problems with tile and stone installations.  The objective is to develop ways to avoid such problems, thereby ensuring consumer satisfaction. Unfortunately, most installers today receive on-the-job training and therefore haven't had an opportunity to learn industry standards from the experts who developed them.  If the installers do not know the standards, then how can they avoid those potential problems?
This course is designed to effectively and practically train tile setters and helpers on current industry standards.
Tile installers must earn verification every two years showing that they have studied and passed the course, and that they understand current industry standards and proper installation methods for thin-set applications.
The ITS Certificate is a huge benefit to tile installation companies.  It demonstrates to architects, homeowners, and to their other customers that their tile installers have been trained to install tile per industry standards.   It also demonstrates the company's commitment to quality installations, and ultimately helps companies earn more jobs and earn more money, while avoiding costly delays and failures.
Latest Version with New Topics Now Available
In March 2017 the USA English and Spanish versions, and the Canadian English version of the ITS course were updated.  A new section that reflects a growing trend in Thin Tile Panels has been added called How to Install the Gauged Porcelain Tile Panels.  This new lesson appears in the Special Tile Applications chapter and focuses on wall and floor installations, product characteristics, the tools necessary for installing these large tile panels, proper substrate conditions and installation methods. It is loaded full of photos, video clips and animations to assist in teaching installers how to install these large tile panels.
The Special Tile Application lesson also has a new section on How to Construct Tile Showers that includes shower pans, curbless showers, and steam showers. An expanded section on How to Install Glass Tile and Mosaics, and a section on How to Install Tile in Swimming Pools and other Water Features has been added.
Under the Preparing Substrates lesson there is a topic that covers the Tile Layout Process and options. Tile Installation Methods lesson also has a new section that reviews the Types of Tools Used and Needed when doing a tile installation.
Grouting is a key issue and so important to the finishing touch of an installation. So a new lesson has been written that covers the types of grout and how to install them, including cementitious grouts, pre-mixed grouts, and epoxy grouts. It also shows the different grouting methods, from the use of rubber floats to grout bags.
Enrollment and Renewal
Once enrolled, students have 14 days to complete the course with 24/7 access via the computer.  The course is interactive and full of short video clips and photos to maximize learning.  Depending on the pace of the student, and without interruption, the course can be completed within 4 to 5 hours.
Employers can track employees' course progress and can access performance reports.  A passing grade enables students to print out a personalized certificate to carry with them, indicating that they have completed the ITS course.
A passing grade enables students to print out a personalized certificate indicating they know and understand the thin-set installation standards and methods.  Students will also be able to print out a Student Reference Guide with all of the key information from the course that they can use as a resource.
Installers who pass the course and have at least one year experience as a full time tile installer (a setter or a finisher) can use the ITS acronym next to their name indicating they are ITS Verified by the UofCTS.
The ITS Certificate is only good for two years so installers must retake the updated course every two years in order to stay current with the new industry standards.
The course is available in both English and Spanish and can be completed within about four to five hours, depending on the pace of the student.
Table of Contents
Course Introduction
Lesson 1:  Industry Standards for Substrates, Surface Preparation and Workmanship
Lesson 2:  Industry Standards for Thin-set Applications
Lesson 3:  Qualifying and Inspecting Substrates
Lesson 4:  Preparing Substrates
Lesson 5:  Tile Installation Methods
Lesson 6: Special Tile Applications
Lesson 7: Grouting
Lesson 8: Quality Control Process
Course Conclusion
Tuition is $150 per person.
Click here to Purchase Course.  Click here for Volume Discount Information.
Please click "Play" below to see a short preview of the course in either English or Spanish:
English:

Spanish:  This course is recommended for people who speak and read Spanish fluently and who attended school in a Spanish speaking country.  Those who don't read Spanish fluently, and do read English, should take the English version of the course.

Disclaimer: Passing the ITS course and having a Tile Installer Thin-set Standards (ITS) Certificate and using the ITS designation is not an indication that the student has the skills to perform good tile work or will perform good tile work.  It simply is an indication that the student took the course and passed it demonstrating that he/she learned the industry standards, practices and methods for the thin-set application and that he/she understood those standards, practices and methods.  This course is not proctored. We assume that all registrants actually take the course and tests themselves.