Tile Installer Thin-set Standards (ITS) Verification Course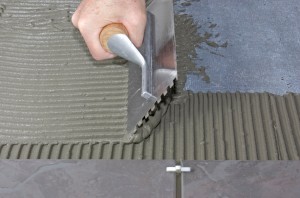 The Tile Installer Thin-set Standards (ITS)  Verification course provides a certificate of completion to those who complete and pass the course.  If the student is and has worked full time within the tile and stone industry for at least 1 year, and has taken the current ITS course, they can use the ITS acronym next to their name.
Being ITS Verified demonstrates that the tile installer knows the current industry standards.  Being ITS Verified can help installers gain more work, charge more for their work, and avoid costly problems.
This course instructs installers on industry standards and proper installation methods for tile thin-set applications that apply to ceramic tile, porcelain tile, stone tile, glass tile, and other types of adhered tile materials.  This course is also meaningful to architects, general contractors, consultants, inspectors, and owners who want to be aware of the industry installation standards and methods.
Tile installers can earn a biennial (two year) certificate of completion documenting that they have studied and understand the current industry standards and proper installation methods for thin-set applications. Employers have access to management reports to monitor employee performance.
Tile companies can demonstrate to architects and homeowners that their tile installers have been trained on proper installation methods using industry standards, thereby avoiding costly delays and failures.
See video preview of the ITS Verification course in English or Spanish by clicking this link, then scroll to the bottom of that page.
The Spanish version of the ITS Verification course is recommended for people who speak and read Spanish fluently and who attended school in a Spanish speaking country.  Those who don't read Spanish fluently, and do read English, should take the English version of the course.
Once enrolled,  students have 24/7 access for 14 days to complete the course. The course is interactive and loaded with short video clips and photos to maximize learning.
A passing grade enables students to print out a personalized certificate indicating they know and understand the thin-set installation standards and methods.  Students will also be able to print out a Student Reference Guide with all of the key information from the course.
Installers who pass the course and have at least one year experience as a full time tile installer (setter or helper) can use the ITS acronym next to their name indicating they are ITS Verified by the UofCTS.
The ITS Certificate is only good for two years and biennially (every two years) the installer must retake the updated course as a refresher and to stay current with the new industry standards.
The course is available in both English and Spanish and can be completed within about four hours, depending on the pace of the student.
Table of Contents:
Course Introduction
Lesson 1:  Industry Standards for Substrates,
Surface Preparation and Workmanship
Lesson 2:  Industry standards for Thin-set
Applications
Lesson 3:  Qualifying and Inspecting Substrates
Lesson 4:  Preparing Substrates
Lesson 5:  Tile Installation Methods
Lesson 6:  Quality Control Process
Course Conclusion
Tuition is $150 per person.
Click here to Purchase Course.  Click here for volume discount information.
Disclaimer: Passing the ITS Verification course and having a Tile Installer Thin-set Standards (ITS) Certificate and using the ITS designation is not an indication that the student has the skills to perform good tile work or will perform good tile work.  It simply is an indication that the student took the course and passed it demonstrating that he/she learned the industry standards for the thin-set application and that he/she understood those standards.  This course is not proctored. We assume that all registrants actually take the course and tests themselves.