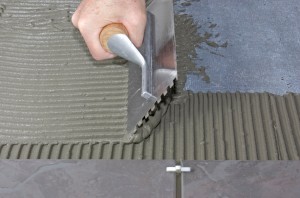 San Diego, CA, November 01, 2011 – The University of Ceramic Tile and Stone (UofCTS) is launching its newest online course, Tile Installer Thin-set Certification (TITC) course, available in English and Spanish.  The TITC Certification course was developed for tile installers who work with ceramic tile, porcelain tile, glass tile, stone tile, or any other adhered tile products.  The convenient and affordable online course teaches installers the industry installation standards and methods for the thin-set application, and documents that they understand those standards and methods.
By earning TITC Certificationtile installers will have an important credential giving them an advantage over other installers bidding on the same jobs.  Certification not only enables installers to earn more profit, but it helps them avoid costly problems and delays thanks to their knowledge of industry standards and methods for thin-setting tile.
Most tile installers don't have the opportunity to learn industry installation standards and methods, and typically learn the trade on the job.  Now installers can conveniently take affordable online courses without incurring any travel expenses or losing any income from being away from their jobs.  UofCTS offers the latest technology in e-Learning that is available on the UofCTS internet campus 24/7.  The course is interactive, professionally narrated, and is filled with many photos, video clips and animations to reinforce the learning and to make it enjoyable for the student.
TITC Certification is not just a benefit for installers.  Architects, general contractors, owners and manufacturers can specify and require that only "TITC Certified" tile installers work on their projects in order to limit the risk of problems and delays.  When there is a problem, it doesn't matter whose fault it is, everyone ends up paying in loss of time, money or reputation.
The TITC Certification course is available in either English or Spanish.  Professionally translated and narrated in what is called "neutral Spanish," the course can be readily understood by North American and South American Hispanics working within the trade. Considering the large number of Hispanic workers in the U.S. construction industry, and the need for Hispanic educational programs, this course is a step towards filling that gap, at least when it comes to tile installation standards and methods.
The TITC Certification course offers a comprehensive review of the tile thin-set adhesive installation standards and methods following ANSI A108, the TCNA Handbook, and common installation material manufacturer's requirements.   TITC certification is only good for one year and installers must retake the updated course annually as a refresher and to stay current with the new industry standards.
The TITC certificate doesn't guarantee an installer has the skill set or will do good work, but it is an indication that they took the TITC course and demonstrated that they learned and understood those standards and methods.
To see a short video preview of the Tile Installer Thin-set Certification (TITC) course, either in English or Spanish, click here.
The TITC course tuitionis $150 per person.  The course is available for purchase 24/7, and once registered the students have 14 days to complete the course at their own rate.  Upon completing the course with a passing grade the students can print a certificate of completion and they are provided a course reference guide to download. The UofCTS also offers volume discounts.
In addition, UofCTS offers online sales and technical training courses on ceramic tile and on natural stone that have been created with salespeople, installers and design professionals in mind.  Visit www.UofCTS.org for details.
Recently UofCTS was appointed as the North American representative for IIEA, International Industry E-learning Academy.   IIEA is an Italian based online training school for businesses based on an advanced e-Learning platform.   IIEA provides online training courses that include very technical ceramic tile manufacturing courses, customer care courses, and online language courses that teach English, French, Italian, Spanish, German and Arabic.  Click here for details.
Education is the fastest and easiest way to increase sales and profits!  An investment in education is a return on investment that never ends.
For further information about the UofCTS training services contact us here or call toll free at 866/669-1550.